Lee Carter at The Stern Family Forum
FOR IMMEDIATE RELEASE
BEYOND POLITICAL TRIBALISM AT THE STERN FORUM
During the Stern Family Forum, New York Times opinion writer Frank Bruni and Lee Carter, communications strategist and Fox and MSNBC contributor, explored today's divided political culture — and how to move beyond it.
This month, Hobart and William Smith hosted the first Stern Family Forum event of the fall semester, welcoming Frank Bruni, a long-time journalist now contributing to the New York Times Opinion section, and Lee Carter, president of malansky + partners and a cable news regular.
During their conversation, moderated by President Mark D. Gearan, Bruni and Carter examined the volatile conflict between Israel and Hamas, domestic politics including the race for Speaker of the House, 2024 election predictions, the trajectory of LGBTQ+ rights, "culture wars" and the art of persuasion in times of hyper-partisanship.
Bruni noted that "one of the reasons in American life it is so difficult to talk across divides and find consensus and compromise is because people decide how they view the world…and then apply that lens to any and every sequence of events." One might expect the events of Oct. 7 to "give people pause before they began to hitch it to their political causes…and reduce it to a single political point," Bruni said, "and yet you saw that happen across the political spectrum."
"We're living a culture today where silence isn't necessarily our friend," Carter said. "It used to be that silence was a safe thing to do: when you didn't know what to say you simply said nothing.… Social media causes us to feel like we have to say something…. We have expectations of people to communicate so fast and communicate exactly what you agree with, you can't even allow grace — you can't even allow people to grapple with an issue."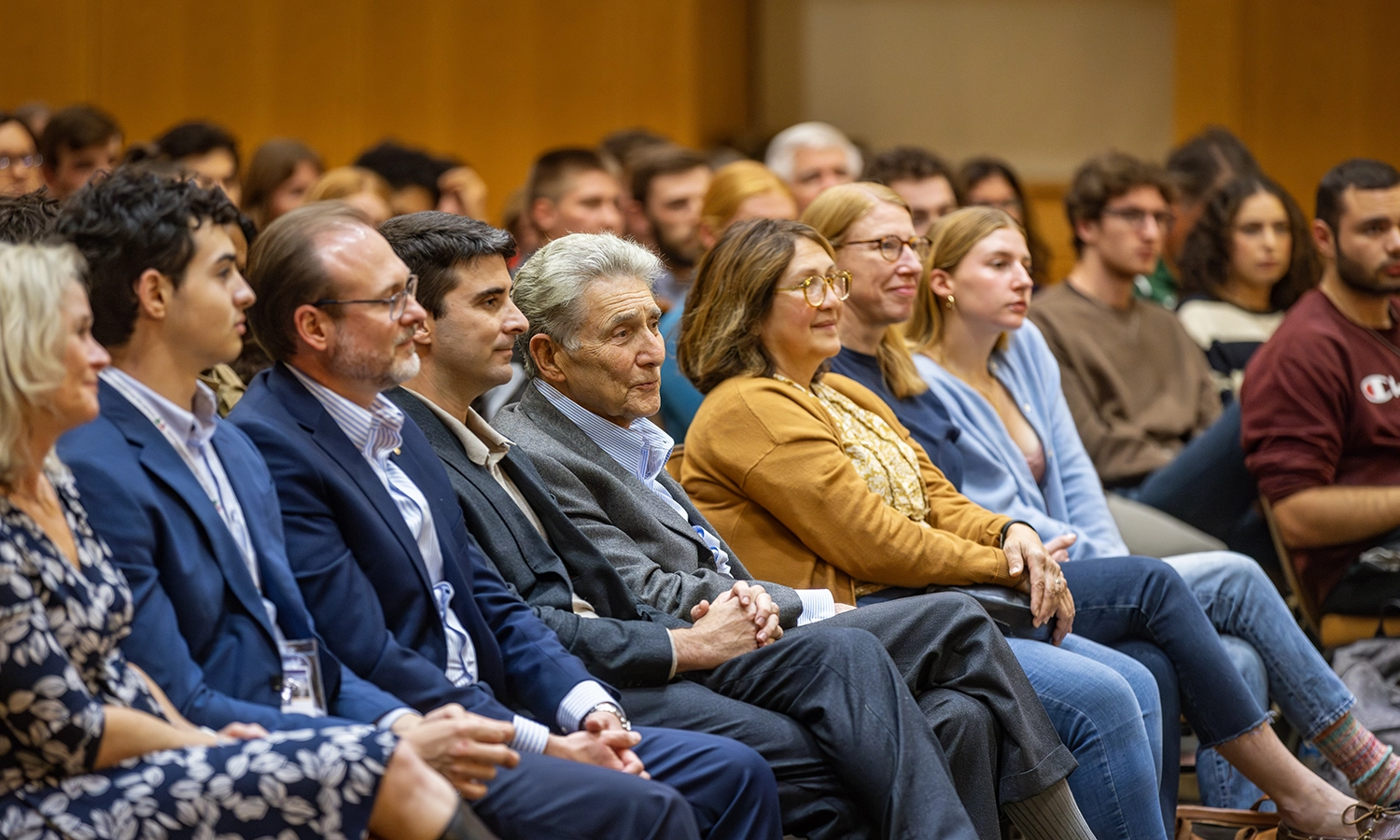 The Stern Family Forum, generously funded by Honorary Trustee Herbert J. Stern '58, P'03, LL.D. '74 and Trustee Samuel A. Stern '03, was created to support annual public discussions with notable guests who bring nuance to difficult, sometimes controversial subjects. Guests engage with members of the HWS campus and surrounding community on timely subjects, "challenging orthodoxy, questioning and disagreeing with each other in an appropriate fashion so that we can expand our minds, grow our thoughts and make even better things out of the things that are," as Sam Stern noted in his introduction for the October event.
Both Bruni and Carter underscored the tribalism that has overtaken U.S. politics and its erosion of the public's faith in national institutions.
"Eighty percent of Americans want us to compromise and come together. That's not what you would ever believe if you look at what's happening in Washington, D.C. and elsewhere," Carter said.
"We're living in an era where people think it is the height of honor and the height of integrity to push for what you want and what you're convinced should be so, even in the face of an overwhelming majority of people saying we don't want that," Bruni said.
Compromise takes empathy, Carter emphasized. "It starts with meeting other people where they are, and that's not what we're conditioned to do right now.… All progress, and true progress, has happened because we're pulled along by the other," she said.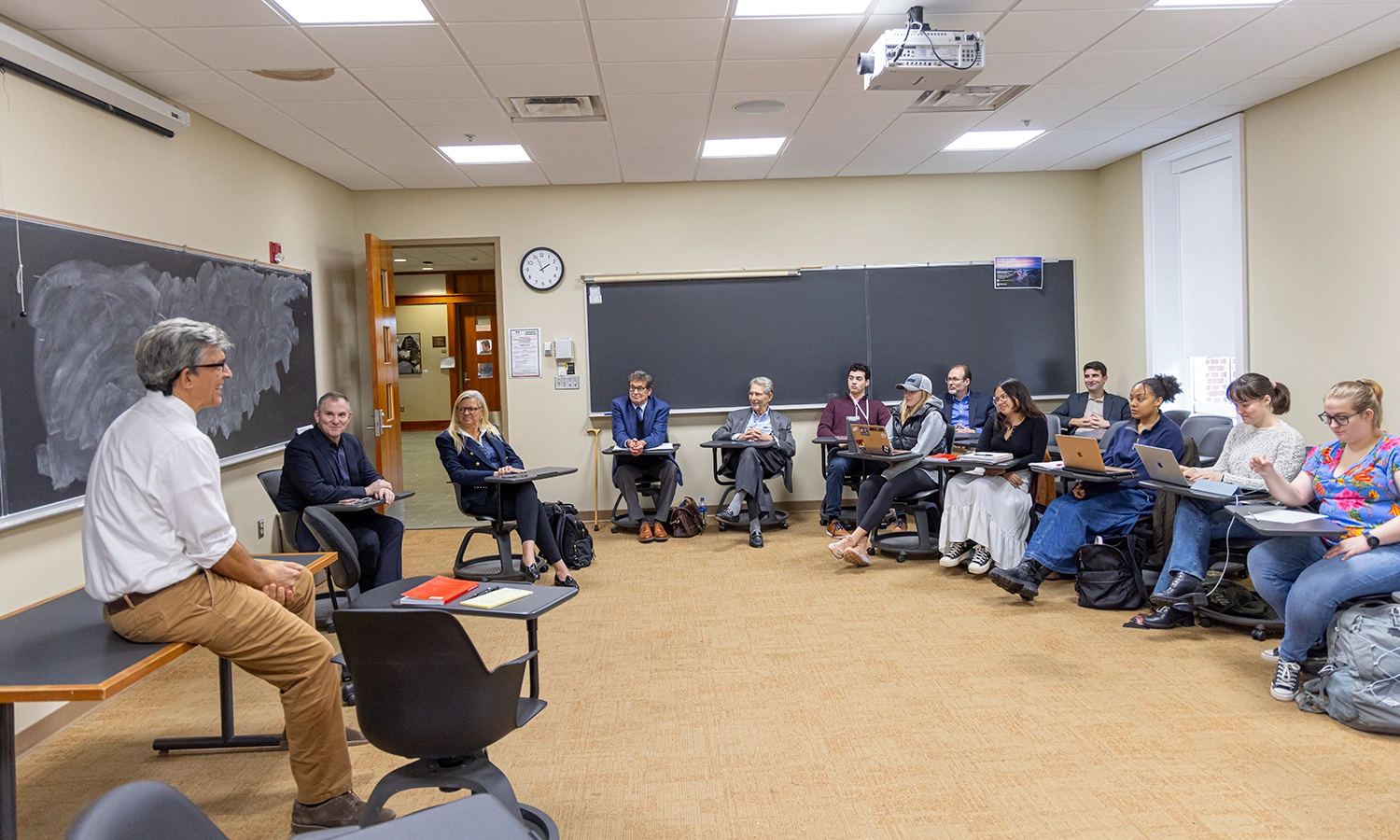 Bruni, a finalist for the Pulitzer Prize, joined the New York Times in 1995 and has ranged broadly across its pages. He has been a White House correspondent and served as the Rome bureau chief, covering Pope John Paul II and Prime Minister Silvio Berlusconi. Before joining the Opinion pages in 2011, he was the paper's chief restaurant critic and, as a staff writer for The Times Magazine, profiled director J.J. Abrams, writer David Foster Wallace and a health-obsessed billionaire who planned to live to 125. Bruni came to the Times from The Detroit Free Press, where he was a war correspondent, the chief movie critic and a religion writer. He is the author of four New York Times bestsellers: a 2022 reflection on illness, aging and optimism, The Beauty of Dusk; a 2015 examination of the college admissions frenzy, Where You Go Is Not Who You'll Be; a 2009 memoir, Born Round, about the joys and torments of his eating life; and a 2002 chronicle of George W. Bush's initial presidential campaign, Ambling Into History. In the summer of 2021, he became a professor of journalism and public policy at Duke University.
Carter is president of maslansky + partners, the leader and creator of Language Strategy, the singular discipline of finding exactly the right words to make audiences listen, care, and act. Her primary focus is driving behavior change through the effective use of language, and her work makes a big impact on how winning organizations communicate, from Fortune 500 companies to trade associations to nonprofits around the world. The author of Persuasion: Convincing Others When Facts Don't Seem to Matter, she is a regular contributor on Fox, Yahoo Finance, and CNN, providing unique insights into business news and U.S. politics. Rather than traditional polling, she analyzes voters' emotional responses to understand voter engagement and sentiment. Carter's work is built on the premise that it's not what you say that matters, it's what they hear — and she ensures clients are heard exactly as they intend. That is how you win.
In the photo above, President Mark D. Gearan moderates the discussion with Frank Bruni and Lee Carter during the Stern Family Forum in the Vandervort Room.
Media Contact
maslansky + partners
Lee Carter
President, Partner
Phone: 571-641-1856
Email: [email protected]